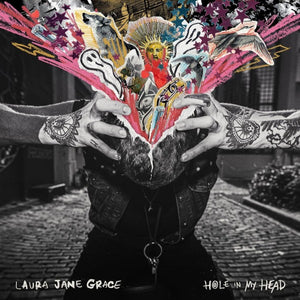 LAURA JANE GRACE • Hole In My Head (Clear with pink splatter vinyl) • LP • Pre-Order
Regular price
$32.00
$0.00
Unit price
per
Tax included.
Big Scary Monsters 
Release date: 16.02.2024
Clear with pink splatter - Vinyl (limited to 250 copies)
Emmy-nominated artist, author, musician, activist, and founder/songwriter of Against Me!, Laura Jane Grace, is back with 'Hole In My Head'—a captivating new album featuring eleven tracks that showcase her undeniable power as a songwriter and storyteller. The album delivers some of her most personal and emotionally gripping songs to date, ranging from stripped-down masterpieces like 'Dysphoria Hoodie' to blistering distorted anthems like the title track 'Hole In My Head' and 'Birds Talk Too.'
Recorded at Native Sound in St. Louis, Missouri, by David Beeman and mastered by Matt Allison (Lawrence Arms, Rise Against), the sonic landscape of the album is a curated collection of multitudes. With warm 50s-rock-influenced guitar riffs, rock-style melodies reminiscent of Jonathan Richman and Eddie Cochran, love letters to St. Louis, reflections on a punk life lived, and thoughtful introspection, the album's forward vocals are primarily backed by Grace's performances on guitar and drums, with additional support from Drive By Trucker's bassist Matt Patton.
'Hole in My Head' captures the nuances of humanity and experience with an oddly optimistic tone. The album's light influences and journalistic recollections, set against a battered yet warm folk-punk delivery, create a comforting and embracing narrative. It marks the beginning of a new chapter in Laura Jane Grace's raucous journey.
---
Share this Product
---