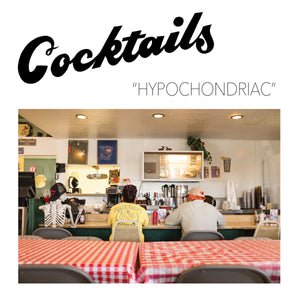 COCKTAILS • Hypochondriac • LP
Regular price
€17,00
€0,00
Unit price
per
Tax included.
Alien Snatch! Records 2017
San Francisco's devout pop purveyors are back with a new batch of expertly crafted songs. For Hypochondriac, the follow up to 2014's Adult Life, Cocktails decided to head to San Francisco's legendary Tiny Telephone studio, gaining inspiration from the rare synthesizers and vintage analog gear available to them. The results are infectious as hell. "We had actually rehearsed these songs for a couple of months prior to going into the studio, which was a first for us, and it was important for them to sound big," frontman Patrick Clos explains, "we wanted the production to be a bit more legit than anything we'd done previously, but we didn't want to lose any of the live energy, so recording direct to tape kept it all still very loose."

Melodically, Hypochondriac draws inspiration from the catchier side of the kinds of 90s bands that were popular when the band's members were first seriously getting into music (think Supergrass, Teenage Fanclub, The Lemonheads, Dandy Warhols, Matthew Sweet, The Rentals, etc.). But with Joel Cusumano's ever-present hook-laden guitar leads riffing throughout, and Lauren Matsui's fuzz-driven Moog synths and near constant vocal harmonies, the band has set themselves apart from their nostalgia-obsessed contemporaries. Hypochondriac is a quick gut punch of a record - it draws you in with brief moments of sweet and fuzzy feelings, and then drops you by piling on enough hooks and huge choruses to keep your head spinning for days.
---
Share this Product
---