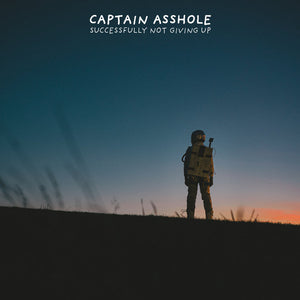 CAPTAIN ASSHOLE • Successfully Not Giving Up (Yellow Vinyl) • LP
Regular price
$27.00
$0.00
Unit price
per
Tax included.
SBÄM
Captain Asshole, that's something to remember. Once heard, the Munich punk rock band stays in your head - but not only because of its name.

Stylistically classified as "Orgcore", based on bands affiliated with punknews.org, the band convinces you with melodic guitars and polyphonic vocals inspired by bands such as The Copyrights, Dear Landlord or Latterman. In 2016, the founding members Buschi, Manu and Max started working on songs for the first time. After drummer Theo joined in the autumn of the same year, the band was fully formed. After their first official show and Buschi's exit, the band continued as a trio and released their debut album "What An Awful Life" in April 2019. Shortly after the first tour through Germany with a small detour to the Netherlands, lead guitarist Basti joined and completed the line-up. The four of them then went on their first US tour with
a successful finish at The Fest in Gainesville, Florida.

The Covid 19 pandemic also had an impact on the band. Several shows and festival appearances had to be cancelled and plans had to be postponed. Not letting this stop
them, Captain Asshole continued working on their sophomore release "Successfully Not Giving Up", recording the album in April 2021. Now the preparations for the 2022
album release are in full swing and Captain Asshole can't wait to thrill new and old fans with even more singalongs and catchy riffs.
Tracklist:
01. Dave Lizewski
02. The Sleepwalking Dead
03. Boy, I'm Homesick!
04. Ghost In A Nutshell
05. Crushing High Lifes
06. You've Smashed The Window With Your Head Fred
07. Better Broken
08. Apocalypse Whenever
09. The One With Unagi
10. Home Alone II
11. Good News, Everyone
12. Post Malört
---
Share this Product
---