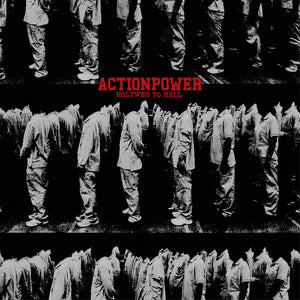 ACTIONPOWER • Holzweg To Hell • LP
Regular price
€25,00
€0,00
Unit price
per
Tax included.
Holzweg To Hell" by ACTIONPOWER is strongly rooted in the hardcore of the 1990s.

Hardcore with a lot of punk attitude.
Political, critical against everything and everyone including themselves and their own scene. Always with the necessary pinch of self-irony. Brutal and straight to the face.

ACTIONPOWER bring with their Opus-Grande, an anti-manifesto and a concept album like a motivational seminar for slackers, hangers and amok runners to the starting line.

The five over-40s from Koblenz make no secret of their roots. After all, they come from the same shithole as Hammerhead, WWK and Toxoplasma. 
16 attacks in 32 minutes.

"Hardcore record of the year" according to Moses from ZAP zine!
Tracklist:
1. Samba de la Power
2. Sternzeichen Esel
3. Mein Film
4. Selbst ist der Mann
5. Gift
6. Leben im Schlagschatten
7. Angepisst
8. Rotwein, Käse, Actionpower
9. Reclaim your scheiß Leben
10. P.M.A.
11. Profilneurose
12. Bunter Vogel
13. One Man Unity
14. Do and Die
15. Richtfest
16. Ich rave 
---
Share this Product
---