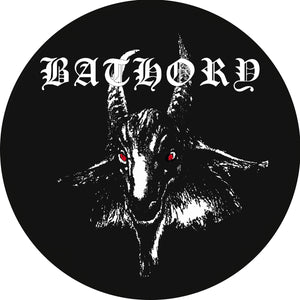 BATHORY • s/t • PicLP
Regular price
€35,00
€0,00
Unit price
per
Tax included.
Black Mark Records

Release date: 20. January  2023

Although Venom's Black Metal, released in 1982, was the first record to coin the term, it was Bathory's early albums, featuring Satanic lyrics, low-fi production and an inhuman vocal style, that defined the genre. Many fans have speculated Venom was an influence on Bathory; however, Quorthon has said in an interview with Kick Ass magazine in 1985 he only heard of Venom after the first Bathory album was released. He also expressed dislike for many influential and popular heavy metal bands at the time, such as Iron Maiden and Judas Priest. He has also stated the band's early work was influenced primarily by Black Sabbath, Motörhead, and punk rock.
Bathory's self-titled debut album, and the subsequent releases The Return and Under the Sign of the Black Mark, are now regarded as major influences on the Norwegian bands which extended black metal's musical progression and popularity in the beginning of the 1990s.

---
Share this Product
---