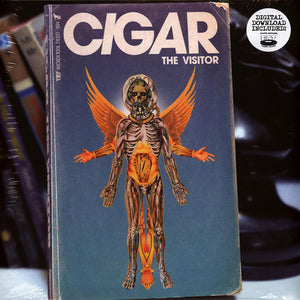 CIGAR • The Visitor • LP
Regular price
€22,00
Sale price
€28,00
Unit price
per
Tax included.
Fat Wreck Chords
Black Vinyl 
The Visitor is Cigar's debut Fat Wreck Chords release and first album since 1996 or something. 

Cigar are ready for re-ignition with their new full-length The Visitor.
In 10 tracks, Cigar easily shatter preconceived notions of young listeners and long-in-the- tooth punks, alike. The album's opening salvo, "These Chances," fires right out of the gate with singer/guitarist Rami KRAYEM's strident vocal and Sortland's amphetamine drumming powering the proceedings.
Headbangers can find joy in the brisk riffing of "In Armor'' and "Move On." The Visitor doesn't let up on velocity or honesty: No detours in the form of four-minute acoustic love songs, trite hip-hop beats or other sonic concessions.

Cigar are skate-punk personified, with a well-tuned engine and the knowledge that in punk, only you determine your glory days. The kinetic energy coming off The Visitor goes far to reconcile nostalgia and value systems. The fact that it took decades to get to this point? That makes Cigar all the more resonant.

Track Listing
1. These Chances
2. Legacy of the 7 Plies
3. We Used To
4. Gone Wrong
5. The Loss
6. In Armor
7. Classic You
8. Forget About Me
9. Move On
10. Knocked Down
---
Share this Product
---