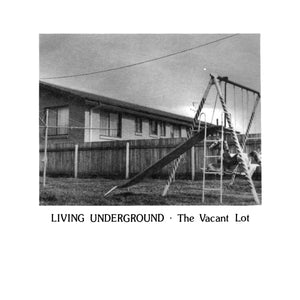 THE VACANT LOT • Living Underground • 7"
Regular price
€10,00
€0,00
Unit price
per
Tax included.
The Vacant Lot are a first wave punk band from Canberra that released one lone EP in 1981 on the Thought Criminals' label, Doublethink Records. They played a few gigs and broke up shortly after. What they left behind was a bit of a head scratcher for most with two songs of rough and tumble KBD/MurderPunk/proto-hardcore and two songs of pulsing, keyboard driven post-punk in the Wire - Chairs Missing vein that once sold out, sort of faded into obscurity. Now with a 2022 remaster from Mikey Young and a renewed vigor for creative activity since 2014, "Living Underground" finally gets the proper reissue treatment. Faithfully and lovingly recreated to be exactly the same as the elusive original issue.
500 copies on black and 200 on green 70gr vinyl housed in a 12pt glue pocket sleeve with lyric insert included. Recorded by Scattered Order at M2 Studios in Sydney in 1980. Remastered by Mikey Young in 2022.
---
Share this Product
---