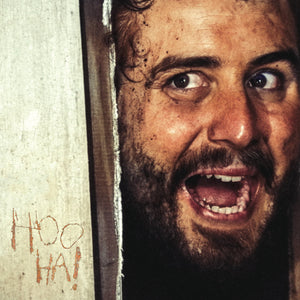 BAD//DREEMS • Hoo Ha! (Black Vinyl) • LP
Regular price
€21,00
€0,00
Unit price
per
Tax included.
Erste Theke Ttonträger 
More than ten years into their career, Bad//Dreems have an energy that most bands rarely manage to attain. Passionate, powerful, and pertinent, HOO HA! Is a sign of what's to come for the group, and an indication that things will never lessen in intensity. "We're in this for the long haul, and we don't ever want to start going through the motions," Cameron notes. "Nor do we ever want to stop."
Bad//Dreems were born during an Adelaide heatwave in the summer of 2012. Ben Marwe, Alex Cameron, James Bartold & Miles Wilson began playing together in a whitegoods warehouse on the banks of the River Torrens.
Their first release, the Badlands EP led to attention from triple j and US college radio, seeing them sign to Ivy League/Mushroom. The debut LP Dogs At Bay (2015) and its follow up Gutful (2017), both produced by Mark Opitz, cemented their place as one of the most exciting Australian guitar bands of recent times. Over this period they toured extensively both in Australia and abroad, appearing at Splendour in the Grass, Falls and Laneway festivals and supporting acts such as Midnight Oil, At The Drive In, The Avalanches, Wolf Alice, Scientists and Cold Chisel.
2019 saw the addition of long time live member engineer
 

Ali Wells to the band.

Their 3rd album, 'Doomsday Ballet', was recorded in Adelaide with production from Burke Reid (Courtney Barnett, Julia Jacklin, DZ Deathrays) and Jack Ladder. Released in October 2019, it received incredible praise from fans & media, including from KEXP, triple j, DORK Mag, UPSET Mag & many more.

Musically the band play a rough and tumble brand of jangling rock and roll, that draws influence from Antipodean groups of the 70s and 80s, as well as US acts such as Wipers, DEVO and Television. To date the band have explored ideas of Australian dystopia and isolation, suburban ennui and male identity. Their new album deals with the absurdity of the post truth world, via a dark psychedelic vision of the end of days.

It was 2012 that the Australian music scene was first really introduced to Bad//Dreems. Having formed as mates at their local footy club, the group soon hit the studio, releasing music that soon found itself lumbered with anachronistic labels like "outsider rock" or "pub rock".

In the time since, the band have – to borrow a cliché – gone from strength to strength, releasing a solid debut EP, and three full-length releases produced by Aussie icon Mark Opitz.

While their live shows have been wild, and their records sounding like unreleased albums from the likes of the Celibate Rifles or Radio Birdman, the band's new release showcases the result of expanded horizons, and sees a band making the music that they wish to make, no longer being burdened by the expectations of outdated labels.
released August 4, 2023
---
Share this Product
---