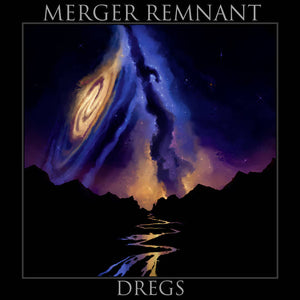 MERGER REMNANT • Dregs • LP
Regular price
$20.00
$0.00
Unit price
per
Tax included.
Pressed in 300 copies on marbled vinyl.

" Before listening to the song you're now about to hear, I had some expectations about what it might sound like, but the expectations were based solely on the previous musical output of one of this new Swedish band's members rather than any advance descriptive information about the music — of which there was none. What I found turned out to be an electrifying surprise.

The band is Merger Remnant, and it's a collaboration between Björn Larsson (who performs vocals, guitars, bass, and drums) and his friend Jonas Ström (keys, samples, ambience, guitars). Larsson is best-known to me and to many others as a member of the death metal bands Mordbrand and God Macabre, and that's what formed the early expectations. Ström, on the other hand, doesn't seem to have any kind of metal pedigree.
What they've created together, as represented on their debut EP Dregs, is difficult to pin down in genre terms. Based on the song we're premiering from the EP today — "All-out Violence Upon Life" — death metal is in the mix, but so are strains of black metal, doom, and ambient music, and the song also has a powerful and multi-faceted atmospheric quality.
The song opens with raking, clanging chord, massive percussive detonations, and distant roars that transform into scalding screams. The music is towering and cold, a monument of dread, and as it pounds with titanic force and imperious mien, chilling keyboards emerge above, like the exhalations of spectres lost in a lightless realm between life and the void.
Monstrous roars join the spine-tingling reverberations of those harrowing screams, increasing the fear factor of the music, and the intensity takes another step up through hammering drums, dense, ravaging shrouds of tremolo'd chords, and the blaze of feverish astral melody, which collectively add a sensation of torment and desperation to the pitch-black moods of the song.
The wailing melodies are themselves joined by the intense, echoing tones of soaring vocals. The drumming is both rocking and riotous, and the conjoining of those screams and roars create a terrifying harmony in a finale that somehow seems both majestic and oppressive, both ruthless and frightening.
"All-out Violence Upon Life" is the opening track on Dregs. It's a striking creation by itself, and it creates considerable intrigue about what the other three tracks on the EP will deliver. It includes two more original songs ("Cosmos Posthumously Ending Itself" and the title track), and a cover of "The Cold Earth Slept Below" by Judas Iscariot, off the 1996 album of the same name."
(No Clean Singing) 

---
Share this Product
---