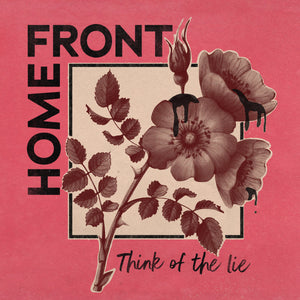 HOME FRONT • Think Of The Lie • 12"EP
Regular price
$25.00
$0.00
Unit price
per
Tax included.
La Vida Es Un Mus
Debut 6-track EP from Home Front, a 2 piece hailing from the frozen wilds of Edmonton, Canada, and apparently recorded in an unheated plywood box in some semblance of fading daylight – whatever the conditions, the coupling of Graeme MacKinnon (Voice, Guitars, Bass), and Clint Frazier (Synths, Drums, Programming) have pulled of that neat trick of arcing backwards yet at the same time signalling a future path. The entire EP references that time immediately after the first flashes of punk when synths and keyboards fell in price and became more readily available, when bands like Suicide, Kas Product and early New Order were experimenting with that technology, offering a credible alternative to punks dwindling returns.
Home Front are right there; opener Flaw In The Design is a frantic blur of analog synths, guitar slashes, and punched drum machine patterns, chilled barked vocals and soaring melodies, that combines the adrenaline rage of punk attitude with the machine led future; Bit Of Dust is darker, the drums pummel relentlessly, all sorts of squelches accompany the anthemic chorus as the track mutates into Focus which reduces the pace with its perfect interplay of synths and guitars – this really is perfect pop.
Flip it over and Security provides more of the same, the track seems to nick those marching jackboots that fired the Sex Pistols Holidays In The Sun before a guitar spins your head in another direction, synths hiss and pulse all driven by a wonderfully dark bass line as the title is chanted, all the while the machine propelled drums hammer away in a rain soaked neon city scape. Seagulls ramps those drums up into the red ahead of a glorious keyboard refrain similar to those Chris Payne provided Gary Numan with while closer Kill The Time eases back towards melancholy allowing those ascending synth patterns to soar.
The whole thing was produced, mixed, and mastered by Jonah Falco which is a sure sign of quality; this as a glorious release, there are elements of nostalgia, but coupled with such quality song-writing Home Front are clearly signalling the direction they are heading in. I for one am eagerly awaiting the follow up album.
(LOUDER THAN WAR •
https://louderthanwar.com/home-front-think-of-the-lie-ep-review/
)
---
Share this Product
---