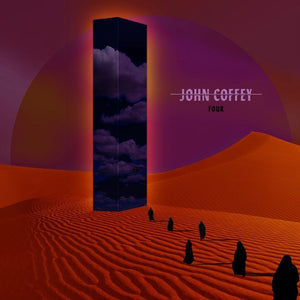 JOHN COFFEY • Four • LP / CD
Regular price
€20,00
€0,00
Unit price
per
Tax included.
On August 18th, John Coffey will release their new album 'FOUR'. This is the latest achievement of the band, which returned in March after a seven-year hiatus with the single 'STEAM WALTZ', a quartet of free live shows, and the icing on the cake – an announcement of a show at AFAS Live on December 16th. On Thursday, May 11th, John Coffey will launch their third single, 'This place is placeless,' an ode to Mother Earth that combines utopia and dystopia. The Earth will continue to orbit the sun long after humanity has made life on Earth impossible. This marks the fourth single from 'FOUR,' following 'STEAM WALTZ' and the double single 'SING and hope it's out of tune' + 'The revenue was sick!'
In November 2022, the band quietly began recording 'FOUR' with producer Adrian Bushby, who has previously worked with artists like Muse, Foo Fighters, and The Darkness. Notably, he was also an engineer for the Spice Girls.
The starting point for 'FOUR' was clear: boundless energy. Infused with 80s rock, grunge, and 00s hardcore elements, John Coffey openly admits that they don't have all the answers either. The album reflects the uncertainty of a changing world, daily struggles, and a society in disarray. The band strongly calls for nuance and depth, advocating for less hard-line positions and polarization. It's not about tough rock 'n' roll themes, but rather a glimpse into everyday life and how the significant challenges of our time personally affect the band members.
---
Share this Product
---