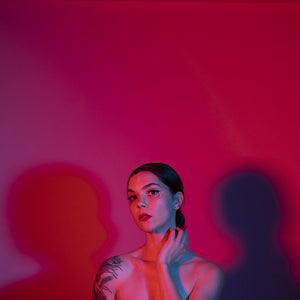 KAYLEIGH GOLDSWORTHY • Learning To Be Happy • LP
Regular price
$30.00
$0.00
Unit price
per
Tax included.
Memory Music
Red Vinyl

The long-time hired-gun musician from Syracuse and based in south Philadelphia, who had spent a decade backing up the likes of Dave Hause, Bayside, Frank Iero, and others, was ready to commit fully to a solo career of her own work.
The day after New Year's Day 2020, Goldsworthy started recording her second solo LP, seven years after her debut Burrower, with Will Yip at Studio 4 outside Philly.Then everything changed. The job and life Goldsworthy had pursued since her teen years was ripped away: tours, shows, studio time, even band practices and writing sessions, all gone. Along with those went away a hard-won sense of self. All those things that had given Goldsworthy the confidence and push to believe in herself and her work disappeared.
"I had figured out who I was," says Goldsworthy, "then this whole thing happened, and I had to figure out who I was again."These are the conditions that created Learning To Be Happy, a story of undoing and becoming that begins at what Goldsworthy thought was the end: that assuredness and strength of January 2020.

This story unspools over a thrilling, winding saga of scrappy, arena-ready pop rock, charged pop punk, and acoustics-and-piano balladry.
The LP's 10 tracks are often heavy and sometimes dark, but always relentlessly confident and hopeful, threaded through with the sort of bruised optimism that rewards all those who do the difficult work of wrestling with what it means to be happy.

---
Share this Product
---