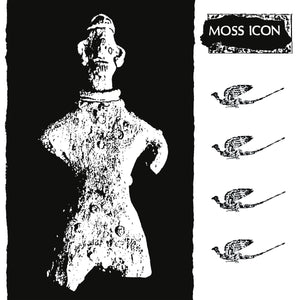 MOSS ICON • Lyburnum Wits End Liberation Fly (Clear Vinyl) • LP
Regular price
$34.00
$0.00
Unit price
per
Tax included.
TEMPORARY RESIDENCE Records

Release date: 31. March 2023
Lyburnum Wits End Liberation Fly was the one and only full-length album by experimental post-punk innovators, Moss Icon.
Recorded in 1988, Lyburnum would not be released until 1993 - several years after Moss Icon 's demise.
Originally released on Vermiforn - the esoteric noise label founded by Sam McPheeters of Born Against - the vision that Moss Icon 's Tonie Joy had for Lyburnum failed to manifest in its finished product. Of the process of preparing Lyburnum for its eventual release, Joy recalls, "My creative mind was well into its next chapter, onto an apocalyptic order [referring to Joy's post- Moss Icon band, Universal Order of Armageddon ]. Getting Lyburnum to look like what I envisioned in my mind became an uphill battle that involved misplaced photos, misunderstood instructions by the printer, increasing apathy, and lack of advanced printing knowledge (on my part), amongst many other technical and creative issues. With a deadline near it ended up being an it-is-what-it-is situation. Some corrections were attempted for the second pressing the following year, but a further lack of coordination between various parties saw it losing even more of the original vision."
Despite these challenges and shortcomings, Lyburnum Wits End Liberation was instantly cherished as a feral masterpiece - a singular entity that would become a defining influence on post-hardcore and emo in the 1990s and beyond.
Nothing before sounded like this, and nothing since has quite captured the same mysterious fury.
Now, finally, Moss Icon 's seminal Lyburnum Wits End Liberation Fly LP will be released exactly as it was always intended to look, sound, and feel. The artwork has been fully restored, and includes previously unpublished photos that were inadvertently missing from the original release.
Brilliantly remastered by Alan Douches at West West Side Music, the vinyl has been newly cut by Bob Weston at Chicago Mastering Service, and pressed onto audiophile-grade vinyl at Record Technology Inc.


---
Share this Product
---