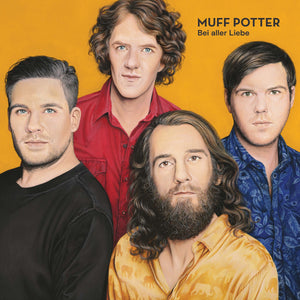 MUFF POTTER • Bei Aller Liebe • LP (Red Vinyl) / Deluxe Boxset
Regular price
$23.00
Sale price
$28.00
Unit price
per
Tax included.
Hucks Plattenkiste

For the first time since 2009, there is a new album from Muff Potter. With "Bei aller Liebe", released on August 26, 2022, the legendary indie rock band has rediscovered itself and its love of music. With emphasis, urgency and biting zeitgeist diagnostics, Muff Potter succeeds in an overwhelming repositioning.

The album is available from us in two versions:
• plain LP on red vinyl. Limited to no idea.
• Boxset incl. LP on yellow vinyl + 7" with two exclusive songs + photo booklet in LP format and the whole thing is signed by all bandmembers.



---
Share this Product
---