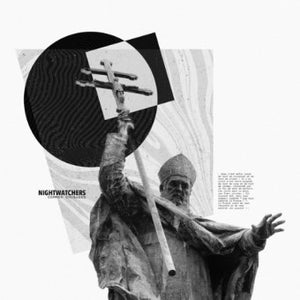 NIGHTWATCHERS • Common Crusade (Coloured Vinyl) • LP
Regular price
€25,00
€0,00
Unit price
per
Tax included.
Lovely Records
Black/White Marbled Vinyl Ltd. 500

The second album by the French band Nightwatchers is the musical and lyrical continuation of their strong debut from 2019.
Political lyrics that address the conflicts of French colonial times meet melodic, subversive, and dark soundscapes that fall somewhere between punk and post-punk in the tracks. An album that is as musically captivating as it is politically relevant.

In total, there are 10 excellent tracks where fast, distorted, and powerful pieces blend with the colder, post-punk influenced side of Nightwatchers. "Common Crusades" deals with the same themes that shaped their debut album, but from a different perspective.
Both albums delve into the events surrounding the violent colonization and exploitation of the areas inhabited by France. While the lyrics on their debut were based on excerpts from two historical books and were written with the goal of raising awareness about France's colonial violence, "Common Crusades" mainly focuses on the aftermath of these conflicts and how the colonial era still influences present-day France, especially its Muslim population.
All the lyrics on the new album are based on speeches or writings of individuals who played a role in the colonization process, as well as those who currently play a role in maintaining colonial logic within French society. Not only is it a thematically significant album, but it is also musically accomplished and captivating!

---
Share this Product
---