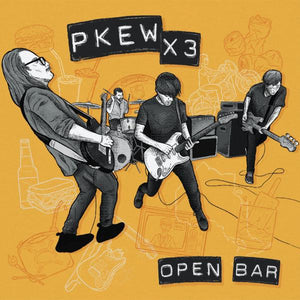 PKEW PKEW PKEW • Open Bar (Coloured Vinyl) • LP
Regular price
€15,00
Sale price
€28,00
Unit price
per
Tax included.
Dine Alone Records
Release date: 28. October 2022
Colour of vinyl = "Coloured" is all we know 
Pkew Pkew Pkew is looking on the bright side.
"As a band that lives and dies by touring, it's been a while since they could say fuck it, we're taking a year off to make something. That decision wasn't entirely theirs, but 2020 handed them an opportunity. Open Bar doesn't navigate any of the tired pandemic tropes. Instead, Pkew is celebrating the things that make their lives awesome, even if those things suck sometimes." 
The band was forced to take a step back and use a slower approach. Mike Warne (guitars/vocals), Ryan McKinley (guitars/vocals), Emmett O'Reilly (bass/vocals) and David Laino (drums) bounced song ideas off Craig Finn of The Hold Steady, and went into the studio with Jon Drew, who produced their first album.
"Since we didn't have a hard deadline to finish, we felt a lot more freedom to take our time and mess around in the studio. Jon is the kind of producer that is down to try anything, so we had lots of fun playing with trumpets, old moog synths, glockenspiels," says Warne.
In a weird year, the familiar Pkew themes—navigating life's small daily troubles with a sardonic grin and your friends by your side—are comforting, nostalgic.
The result is tight, rowdy modern punk with the heart and soul of classic rock. It's cracking a beer in the park, plugging in the AUX cord on a summer road trip, cramming into a sweaty bar with your friends and a million strangers.



---
Share this Product
---