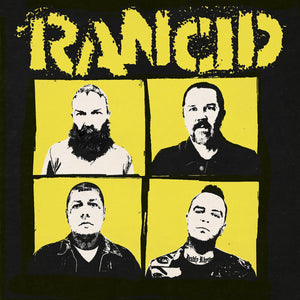 RANCID • Tomorrow Never Comes (Eco Mix Vinyl) • LP
Regular price
€30,00
€0,00
Unit price
per
Tax included.
Hellcat Records
Release date: 2. June 2023


Rancid - the legendary punk rockers from the Bay Area are back with their 10th studio album "Tomorrow Never Comes" on Epitaph Records. Hailing from the blue swamps of Berkeley, California, Rancid has been a vibrant, breathing punk rock band for over a quarter of a century.
In 1991, after the demise of their beloved and still influential first band Operation Ivy, founding members Tim Armstrong (vocals, guitar) and Matt Freeman (bass, vocals) decided to make the impossible possible - to form an even better band. And so, Rancid was born. The band signed with Epitaph Records and released their first album "Rancid" in 1993. Shortly after, Lars Frederiksen (vocals, guitar) joined the band, and they went on to release incredible albums, from "Let's Go" (1994) to their platinum-certified classic "..And Out Come The Wolves." (1995). Drummer Branden Steineckert joined the band in 2003 and solidified the lineup that rocks to this day.
Seeing Rancid live is a life-changing experience, and constant touring is planned for 2023. The band will tour Europe in June and soon after, the rest of the world.
Despite it all, Rancid has remained fiercely independent and has never lost their loyalty to the community or to each other. Their music addresses political and social issues while balancing personal stories of love, loss, and heartbreak with attitude. Rancid offers their listeners a community where everyone can belong. By carrying on the traditions and spirit of the original punk rock bands that came before them, Rancid has become a legend and continues to inspire the punk bands that have followed. They are the living embodiment of East Bay Punk. And if you didn't know all of this yet - you're not playing their music loud enough!
---
Share this Product
---