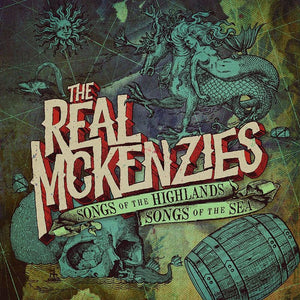 THE REAL McKENZIES • Songs of the Highlands, Songs of the Sea (Red Vinyl) • LP
Regular price
$34.00
$0.00
Unit price
per
Tax included.
Fat Wreck
Release date: 18. November 2022
Founded in 1992 by the larger than life, Scottish punk-rock poet laureate, Mr. Paul McKenzie, this merry band of miscreants has spent a quarter-century circumnavigating the globe to bring the McKenzies gospel to an ever-expanding throng of rebels and scallywags
With their latest offering, one thing stands out immediately: You already know these songs. Even if you've never been to Scotland, even if you're not a seafaring type, you know them. That's because the twelve anthems—and make no mistake, these are anthems—The Real McKenzies have picked for this new album have been sung by others for decades, if not centuries. A dual celebration of Scottishness and the band, which is celebrating its 30th anniversary this year, Songs of the Highland, Songs of the Sea is comprised entirely of famous traditional sea shanties that are roughly divided, as the record's title suggest, between land and sea. And even though the idea for the album was initially proposed by guitarist Mario Nieva, these songs speak to frontman Paul McKenzie's heritage as well as who he is, and who he always has been. Some might have been written long before he was born, but these are still his stories, wound inextricably into his life experiences.
Whether a lifelong fan of The Real McKenzies, a seafaring dreamer,
or simply a fan of the simple sing-along lullaby, Songs of the Highland, Songs of the Sea is sure to become an instant catalog favorite.


Scotland the Brave

A Red, Red Rose

Ye Jacobites By Name

The Green Hills of Tyrol

Leave Her Johnny

My Heart's in the Highlands

Sloop John B

Drunken Sailor

The Bonnie Ship the Diamond

Dead Man's Chest

Swansea Town

Blow the Man Down

---
Share this Product
---