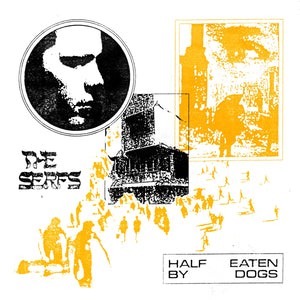 THE SERFS • Half Eaten By Dogs (Raw Meat Vinyl) • LP • Pre-Order
Regular price
€25,00
€0,00
Unit price
per
Tax included.
Trouble In Mind Records
Release date: 27. October 2023


For anyone paying close attention, it's evident that Cincinnati, OH is currently a true breeding ground for musical creativity, and the three members of The Serfs - Dylan McCartney (vocals, percussion, guitar, bass, electronics), Dakota Carlyle (electronics, bass, guitar, vocals), and Andie Luman (vocals, synthesizer) - along with their respective side projects (The Drin, Crime of Passing, Motorbike) are undeniably at the heart of Cincinnati's new underground scene. Following album releases on Berlin's minimal-synth label Detriti and Seattle-based DREAM Records in 2018 and 2022, respectively, the band takes the step to Trouble In Mind for their third and arguably best album. "Half Eaten By Dogs" gives the futuristic twitch of future-forward bands like Total Control or Cold Beat a decided Midwestern spin, along with a post-industrial dancefloor grime reminiscent of Skinny Puppy, Dark Day, This Heat, or Factrix.
"Half Eaten by Dogs" is like peering through a telescope into a dystopian vision where frost-covered synth harmonies meld with dripping chemical rhythms and enhanced elemental rock formations. The music is a fusion of dark drum and synthesizer industrial with stygian guitar instrumentation, sometimes tinged with cautious paranoia, other times with melodic defiance and exuberance (and at moments even incorporating harmonica, saxophone, or flute). "Half Eaten By Dogs" successfully encapsulates everything The Serfs have accomplished so far but with much greater intention and purpose than their previous albums. It offers songs for dancing and songs to absorb during a storm or while driving through the world's streets. It might mark another descent into the catacombs for the band, yet it's a journey towards something higher.

FFO: Home Front, High Vis, New Order, Cold Cave
---
Share this Product
---