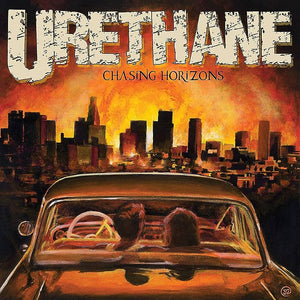 URETHANE • Chasing Horizons • LP • Pre-Order
Regular price
€29,00
€0,00
Unit price
per
Tax included.
Cyber Tracks Records
On its way from California to St. Pauli


Pop-punk outfit URETHANE featuring legendary Hall of Fame professional skateboarder and guitarist Steve Caballero has signed to Cyber Tracks. Their debut album Chasing Horizons was produced, engineered, and mixed by Cameron Webb (Motörhead, Megadeth, Alkaline Trio, NOFX, Pennywise) and is now available. The band will be touring as well including some festival appearances.
The album title was derived from the song "Wyoming" – a song about giving up, running away, and starting over. "There is a line where the character is on an open road chasing the horizon and it just made sense," explains bassist Chad Ruiz. "During the short life of this band we have been chasing horizons non-stop. It's that kind of fun feeling you get when you're just out on the road going for it. We are very blessed to be chasing horizons."
Chasing Horizons is jam-packed with catchy choruses and melodic hooks that range from mid-tempo sing-a-longs to aggressive fist-pumping screamers. Also, it was written during quarantine so the lyrical theme leans a bit dark. From depression ("Gravity") to narcissism ("Avalanches" feat. Toby Morse of H2O) to the bad traits and genetics we inherit and are forced to live with ("Inheritance" feat. Jim Lindberg of Pennywise) to being your own worst enemy ("Love Letter Bombs") to contentious relationships ("What You Get") to love conquering even the darkest times ("What Becomes Of Us") – lead vocalist and guitarist Tim Fennelly examines the challenges of everyday life.
---
Share this Product
---