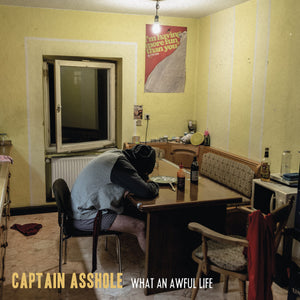 CAPTAIN ASSHOLE • What An Awful Life • LP
Regular price
$18.00
$0.00
Unit price
per
Tax included.
Captain Asshole started in March 2016. Primarily as an excuse to get together to drink beer, Buschi, Manu and Max would meet up at Buschi's dorm room and write songs. With no room for a drum set and not even a real drummer things started on a very strange rough note with drum computers used for half a year.
Realizing that Manu's creative output was too much to handle for his other band Ponder, and Max realizing that he actually wanted to be serious about making music again, things started to take shape. A proper practice space was found in Allach and soon after Captain Asshole became a real band when Theo relocated to Munich for college and was searching for a punk rock band in need of a drummer. Somehow a straight edge kid decided that getting together with three drunks was a good idea and things started to really get rolling.
They changed practice spaces once again to be actually in the city and selfrecorded a demo of four songs. Soon after first shows followed, starting with the one and only show with Buschi on lead guitar. After his exit it felt strange looking for a new fourth member so Manu, Max and Theo decided to try going on as a three-piece.
More shows followed and in the spring of 2018 they released their first two singles "The Same Thing We Do Every Night, Pinky!" which they also did a video for, and "We Can Share This Drink". Once again they recorded the songs themselves, but this time they gave the mixing and mastering duties into the hands of Jesse Cannon (The Menzingers,...).
Later that year they decided it was time for a proper album and started tracking what would be the 12 songs of "What An Awful Life", recording everything themselves again except for drums and sending files across the atlantic again to Jesse.
The album will be released on April 5th on vinyl and all digital outlets.
Tracklist:
01. Kyoto Wa Doko Nan Da?
02. Old Habits Don't Die
03. Iron Out The Kinks
04. Sunday Morning
05. Face Him! Yo Dude, Are You High?
06. Tony Hawk's Pro Skater 2 Had A Really Good Soundtrack
07. Holiday Inn
08. Same Old Streets
09. No More Spanish Love Songs (feat. Cory Call)
10. I Literally Have No Idea What The Fuck I'm Doing
11. Home Alone
12 Fuck You Andy
---
Share this Product
---