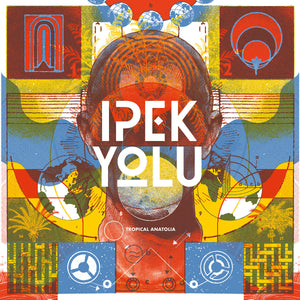 IPEK YOLU • Tropical Anatolia • LP
Regular price
€22,00
€0,00
Unit price
per
Tax included.
Sounds Of Subterrania 2021
Ipek Yolu is the Turkish name for the Silk Road which connected the East and the West. This band does not deal in silk but they connect flavors, smells and sounds from different corners of the globe, connecting the world.
The band merges bass-heavy electro-tinged cumbia grooves, saz riffs and surf guitar into a multicultural melting pot of South American rhythms, Anatolian folk music and 60s psychedelic rock. A unique universe of sound that bridges the tropical jungles and the dusty deserts in a kaleidoscopic blend of music. Ipek Yolu has used 2020 to write their debut album Tropical Anatolia and are ready to hit the venues and festivals.
The members of Ipek Yolu first got together for an improvised jam session during the Aarhus Roots & Hybrid Festival in 2018. The show was set up as a special one-time-only show merging members from the bands Hudna & Junglelyd. The show ended up lasting for almost three hours. It didn't take them long to discover they were onto something special. If you know any of these bands mentioned you know you're in for a body-shaking party, characterised by musical curiosity and improvisation.
The three members of Ipek Yolu have all been part of the Danish music scene for several years. The band leader, Orhan Özgür Turan, is a well-known and respected saz player all over Denmark, and has made a name for himself through his efforts in the Anatolian Folk band Hudna. In 2018 he won an award as Global Roots Artist of the year at The Danish World Music Awards. Olaf Brinch and Lasse Aagaard have worked together for many years making high energy cumbia with their band Junglelyd and Afrobeat with their band African Connection. Olaf is also an integral part of the Danish band AddisAbabaBand. In addition, Olaf and Lasse have toured and recorded with great musicians such as CC Yoyo, former drummer of Fela Kuti, in both Ghana and Denmark. All of the past experiences collided to create Ipek Yolu. 
---
Share this Product
---