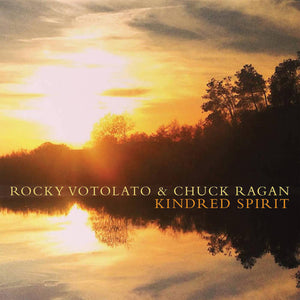 ROCKY VOTOLATO & CHUCK RAGAN • Kindred Spirit (Transparent blue vinyl)• 10"
Regular price
$18.00
$0.00
Unit price
per
Tax included.
SideOneDummy Records

CHUCK RAGAN is an absolutely mesmerizing songwriter and an extremely charismatic, authentic performer - something he has in common with his old friend and musical comrade ROCKY VOTOLATO.
Both firmly believe that music enlightens and inspires; their bulging discographies back that up. CHUCK started his career as a singer/songwriter, but has played in punk bands since the early nineties and secured a permanent place in the Olympus of punk rock with HOT WATER MUSIC. His latest solo record ,Till Midnight" from spring 2014 was praised to the skies by all publications; even the American Rolling Stone couldn't help but note: an "impassioned, undeniable shot of singalong Americana." Over the past 15 years, ROCKY VOTOLATO has produced some of the most powerful music to come out of Seattle; an impressive canon of sincere, lyrical songwriting delivered in a unique indie-folk-punk style that draws from the Pacific Northwest scene in which he grew up.
Produced by Chris Walla (DEATH CAB FOR CUTIE), on board as guests: Dave Hause, Ben Nichols, Jon Snodgrass and Chad Price.



---
Share this Product
---