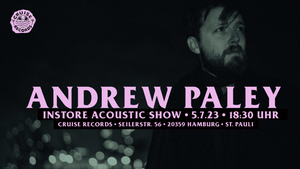 BOOZE CRUISE alumni ANDREW PALEY is back in town! Entrance is for free, a donation for Andrew would be sweet Start: 18:30 hrsDoors: Store opens at 14 hrsFB - RSVP: https://www.facebook.com/events/958118975496818
---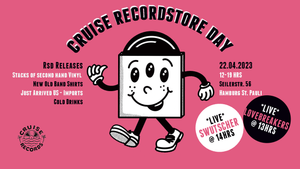 Der Recordstoreday 2023 steht vor der Tür und wir sind mit dabei. Am Samstag gibts von 12-19 Uhr viele News bei uns: • exklusive RSD ReleasesWir haben alles, was thematisch zu uns passt, geordert...ja, auch die Taylor Swift Platte • stapelweise 2nd HandplattenFokus auf HC & Punk aus den 90 / 00 - Jahren • neue US ImportsUnsere Revelation, Equal Vision, No Idea, Red Scare, Triple B, Deathwish - Order kommt scheinbar pünktlich an. • Neue alte ShirtsStapelweise alte Bandshirts, der Sommer ist ja quasi endlich da.  Um 13 Uhr spielen die Englänger von LOVEBREAKERS ein Akustikset.Kennst du vielleicht schon,...
---
SLAIR and COSMO THUNDER are going on tour together in April. Driven by restlessness and wanderlust, what started as "Let's play together" quickly turned into "Let's make a tour out of it". The two of them are going to travel through the north-west of Germany and luckily will make a stop at our shop!  SLAIR, whose real name is Sue, originally comes from Toronto but fate brought her to Cologne. She not only works as a tattoo artist there, but also plays guitar and sings in the wonderful band BETWEEN BODIES. Her music wraps you in a warm melancholic coat and...
---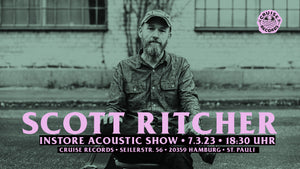 BOOZE CRUISE alumni SCOTT RITCHER is back in town! Since his days with the group Metroschifter, Scott Ritcher's songwriting has evolved from start-stop explosions and overdriven math-rock to bare-bones arrangements of country-inspired melodies. Throughout that evolution – even as his songs were recorded by indie heavyweights like Refused, The Get Up Kids, The Promise Ring, Elliott and Burning Airlines – his sound has remained recognizable. Now Scott Ritcher is standing center stage, combining acoustics and electronics in a unique new solo performance of minimalist country music. Born in Louisville, Kentucky, and now based in Stockholm, Ritcher happily blends the traditional...
---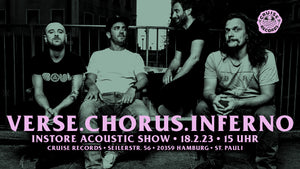 Engineer Records, home of bands like TIRED RADIO, JUKEBOX ROMANTICS and ALL ABOARD! will release the new album by Italian sweet hearts VERSE, CHORUS, INFERNO. On Sat, 18.02 the band will play a show at Eldorado at night and an acoustic warm up gig at our store at 15hrs. Records digging, day drinking (PBR is back in stock, hint hint) and a live show, how could a Saturday afternoon be any better?! Entrance is for free, a donation for the touring band would be sweet Start: 15:00 hrsDoors: Store opens at 12 hrsRSVP • Facebook